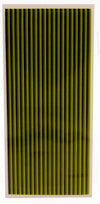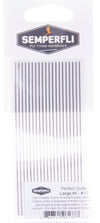 Amazing Synthetic Quills, Olive, Purple, Peccary, and Clear vinyl strips with a tapered edge that form the most amazing bodies on flies, from nymphs, shrimps, wets and dry flies. Totally synthetic Perfect Quills are made from a thin tapered vinyl from a point to 3mm width with a wonderful black edging strip to form the rib. The black edging width is what determines the size. To make an indestructible fly use a UV resin or varnish over the top to stop fish teeth from damaging your fly bodies.
Ideal for flies like PTN, damsel nymphs, chironomid pupa and emergers, mayfly adults, nymphs, and emergers.
With Peacock Herl now on the CITES red list we risk traveling with Peacock Herl, this is the natural answer, reducing risk when traveling.
*A good substitute for Stripped Peacock Quills*
Large size ideal for flies # 6 to 310
Medium size ideal for flies #12 to #16
Small size ideal for flies #14- 18