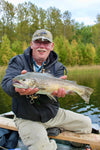 Lake Fly Fishing Course - Bank to Boat Tactics and Approaches
This fly fishing course occurs on Alberta lakes in the central and north-central regions. It's as though you booked a guided trip, only this time the emphasis is on helping you become a better shore or boat angler. Confirmation of the lesson date must occur via email before booking.
One day. Maximum of 2 people.
One day is an introduction to lake fishing from a boat and the bank. It includes gear, leader designs fly selection, and approach. Bring your rods, reels, lines and life jacket. 
We cater to the complete novices up to experienced anglers.
Learn the art of lake fly fishing in beautiful surroundings and enjoy trying to catch your first fish. Lake fly fishing has many of its unique approaches. Understanding flies, leader setups and designs, and gear can be different from flowing water fishing. Learning boat control and equipment needed is essential. There are several styles of how to maintain boat control to fish an area of lake very well coupled with the best fishing approach.
Back Trolling – electric motor setup
Swing and Yaw – anchoring method
Drift fishing with drogues and drogue setup - setting up your boat
Reading and identifying lake structure, wind currents, and fish locations 
Bank-style fishing lakes
The fundamentals of lake entomology also vary and differ from that of flowing water.
Leader designs and setups for subsurface and topwater fishing.
Your lake fly fishing lessons will be tailored to suit your experience and objectives. Common benefits of lake fly fishing lessons are:
Lake Entomology
Learn to select the right gear for the conditions
Understand leader setup
Learn how to catch more fish.
Improved presentation and techniques - one fly-to-team fly systems
Descent / Straight Line techniques
Washing Line Techniques
Understanding Light Conditions
Selecting fly patterns based on light conditions and season
Defining Early Season, Mid Season and Late Season
Learn new casts like single and roll casts in windy conditions
Using Blow Line methods
Learn what flies to select when and why.
Learn different fishing techniques like a descent line, washing line technique, nymph, and dry fly lakes techniques with other productive and effective easy-to-use methods.
Whether you are a complete novice or you have been fly fishing for some time, lake fly fishing lessons will help you improve all regions of your lake fishing from casting to boat control. Whether it's just one or two days to put you on the right pathway to improve your skills over a period we can help.
If you are interested in lake fly fishing then please contact us first to discuss your requirements before booking this class. We can be reached at our email address.
info.flylifecanada@gmail.com
Lake Fly fishing lessons will be tailored to match your ability and learning styles.
Our job is to help you become a better lake angler!
 **Minimum requirement is that you need to know how to comfortably cast 30-50 feet.** 
**All courses are nonrefundable**
 Private Classes are available upon request - don't hesitate to get in touch with us for more information.
(Additional cost for one person required) $180.00