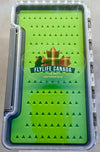 Fly Box - Silicone Fly Box
Sale price
$14.95
Regular price
High-grade slim silicone fly boxes with a gasket seal ensure your flies remain dry and secure in wet environments and make finding, sorting, and using the right fly hassle-free. Never again will you be frustrated trying to locate a specific fly in your fly box.
This green silicone inserts fly box provides a simple solution for storing and organizing flies. The bright, durable silicone insert enables efficient identification and won't wear out or tear like foam. In comparison to traditional foam or clip-type fly boxes, this fly box is built for long-term use and reliability.
The transparent lid enables you to quickly identify your favourite patterns inside this box. An ideal fit for pockets of your vest, shirt, or sling packs. Waterproof construction ensures your flies remain secure and dry if you happen to take a tumble.
Dimensions:
Medium Size - 18.5 x 10 x 1.5 cm 
(Storage capacity 121 fly patterns) 
Small Size - 13.5 x 9.5 x 1.5 cm
(Storage capacity 74 fly patterns)